Columbia




Navigation Bar









Communications









Sitemap


Creative Writing Programme

A natural progression for our students from reading to writing. This programme builds the student's ability to write by introducing to her different writing styles and techniques, so that she will have at her disposal many different tools to express herself through words.

In the process, the student will learn different writing styles, such as fiction writing (popularly known as composition), letter writing, report writing, journal writing, writing advertisements, writing poetry, answering comprehension questions etc.

The programme will also teach the students about the rules of grammar and the correct uses.
---
Quick Link to programmes:

"Our philosophy is to help develop the fullest potential of the children under our care by providing them with a conducive and safe learning environment with qualified and experienced teachers and a small teacher to pupil ratio is maintained to ensure individual guidance and attention"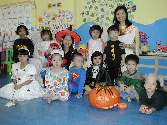 Halloween is celebrated as a day to dress up and experience the culture of another country.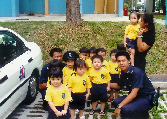 Visits to neighbourhood police post helps the child learn more her surroundings.