Columbia
Academy



Navigation Bar









Communications









Sitemap

Pre-School Enrichment Programmes

Nursery Phonics
Our Nursery Phonics Programme uses the LETTERLAND PHONICS series. The objective of this programme is to help the students recognize the letters of the alphabet. It also help them know the sounds of the alphabet and how to pronounce it correctly. Writing is also used to help the students form the link between the written word and the spoken language.
Kindergarten Phonics
Our Kindergarten Phonics programme is anchored by Helen, who has more than 10 years of experience teaching phonics at Columbia. The programme comprise of the basic, intermediate and advance component. The student will be able to read and spell phonetically by the end of the programme.
Columbia's Reading Programme
This programme builds on the phonics background of our graduates from the Phonics programme, giving the students valuable practice in reading comprehension. The students will be guided also in understanding what they have read.
Quick Link to programmes:
"Our philosophy is to help develop the fullest potential of the children under our care by providing them with a conducive and safe learning environment with qualified and experienced teachers and a small teacher to pupil ratio is maintained to ensure individual guidance and attention"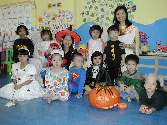 Halloween is celebrated as a day to dress up and experience the culture of another country.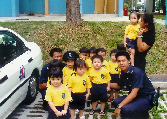 Visits to neighbourhood police post helps the child learn more her surroundings.